Again, blog post title block.
Thank you to everyone for their birthday wishes! Every year, it seems to come around more quickly. For those wondering, I'll be 42.
I admit I am embarassed a bit about gushing over my pressies, but I am telling you-it's been so rare over the past 10 or so years that I have received anything from my family that I adored, I had to gush.
I do have a FO for you:
Remember the fulled mini tote I did with the handspun yarn? Well, it's done blocking. Okay, I admit, I forgot about it as it was tucked in some obscure corner of the spare room and noticed it today.
Before: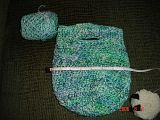 After: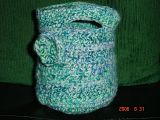 This only shrunk about 1/2" all the way around-final size is about 7 1/2" x 7 1/2"-I ran it through about 5 times.