I did this over the course of the morning. I decided to do the hat first and that way I can use up all the yellow yarn and not worry about having leftovers for the hat.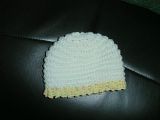 I used
this pattern
in the newborn size using a baby sports weight white yarn I had in my stash and TLC Wiggles in yellow for the band. I have made a bunch of these caps for preemie caps to go with the blankets I take up to the NICU in Philadelphia once a year. It's an easy pattern and if you aren't a fan of crocheting in the round (like me), it's perfect for you. Yes, I know the pattern title says "Hat in the Round", but it's not! This is a nice pattern because you can use any yarn you want and any hook and just go by the measurements.
Now, to start the blanket.....