Just a few (measly really) pics of the day. Unfortunately, a severe thunderstorm warning with hail and damaging winds was suddenly issued and the skies got dark. We ended up ending early. Not much came of it, although still thunder now (3 1/2 hours later) and a teensy bit of rain.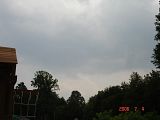 Ominous Skies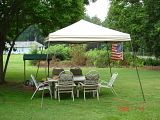 The set=up stuff (no one is there cause we had eaten some and were swimming)



Elena and my SIL playing volleyball from outside the pool (my SIL always conveniently "forgets" her bathing suit)-hence she is outside the pool playing with some inside the pool. Now, she had been to the beach prior to coming over, so I don't see how she could have forgotten it, but she did.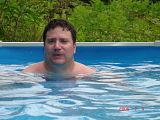 My brother Ron



Elena (after eating a particularly large cheeseburger)



Elena-ever the ham



Mike-getting ready to kick some volleyball butt!