I found
this pattern
and decided to give it a try. I used Lustersheen in Light Sage and a D hook (now, I did the body of the bag with a Clover D-which is a 3.0, but alas attaching the chains was not working out with the Clover, so I switched to a Bates D-which is 3.25 mm). This is easy to make and I plan to make a bigger wrist-type version, as this is a finger change purse size (bag size is 4" x 4" and great for carrying driver's license, loose bills and change). Adding the chains was a hump for me at first, since the instructions don't explain exactly how the heck to do it. I figured out I had to start it and then put the hook with the chains through one part of the bag to get to the inside-once I figured it out, it was easy from there-although it took me about 1/2 hour of non-stop trying to get it through my thick head how to do it.
Apparently, this bag pattern is from the early 1900's and you lift the flap, pull the chains towards you and slip your things inside the bag and pull on the cabone ring to close. Nothing will fall out or anything.
I seem to be on a bag kick lately.....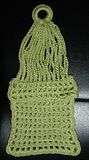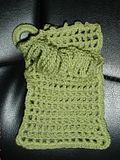 Anyway, I'm off to take a bath and hit the sack. We went to our anniversary brunch today, came home and I fell asleep for 3 hours (I must have needed it, right?) and then we did some stuff around here, made dinner and watched "Dickie Roberts Child Star" on TBS starring David Spade. I thought the movie would stink, but I liked it a lot and the best part was, at the end during the credits, it had all the child stars from when I was a kid all singing together, etc. The movie was directed by Adam Sandler and was one of those movies that I thought I would hate and ended up liking it a lot. If you get a chance check it out.......okay, I cried a little at the end. I hate that part, but I admit, I can get very sappy at times and lately I cry a lot after watching movies, etc. Maybe I should be back on anti-depressants...........