Okay, who are we kidding,
it's a mesh tank top
. I hate it-but I tried and now I can move on. First off, I switched yarn and hook size and my gauge was on the money-
I usually make myself an XL in this stuff. Now, it did say XL was a 52" bust, but you know how the crochet patterns usually tend to run a bit off. Well damn, it is big on me. I took a pic as best I could of it on me over a long sleeved top-I just don't have the hoots to carry this one off.
To make it a bit smaller, I crocheted a ring and put it on the back part of the straps (I actually have a few tank tops I bought in Las Vegas like this). It worked somewhat, but again, just don't have the hoots. The front is too "scooped" and without boobies to hold it up, well, not great. It could be worn over a bathing suit. Also, in my opinion, it's not long enough to be called a tunic.
I did make a note I could probably get away with the size medium in this-so if anyone has any plans to make it, be warned.
It's made from aunt Lydia's Denim Quick in black (75% cotton/25% acrylic) and a 5.5 mm/I hook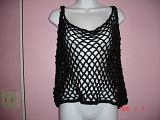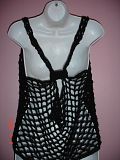 Next up, the super crappy self picture (note to self, please clean bathroom mirror today)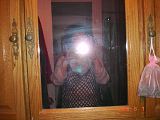 I plan to start the
Drops Mesh Tank
(note the sizes-XXL is 44" bust, but the pattern stitch makes it stretchy, which means it could stretch 2" to 3 1/8" bigger when worn). I'll probably make the regular XL. I also heard the patterns here run a bit small. I plan to use
this yarn
(thanks
Bron
) in taupe (color isn't shown). The cone is almost 15 ounces, which will be plenty.
But first, must keep working on
Amy's
pattern. No I didn't forget, sometimes after a major frogging session you just have to walk away. Back on the horse today.