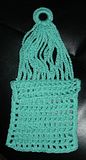 I like doing these things, although the chain attachments drive me bonkers. I found some other links for bags like it and I am realizing most were beaded-I am doing the "poor mans" version (LOL).
Miser bag crocheted in the round
About.com pattern and info
Some history of them
A pattern of the above kind of bag
A bag made with tatting thread
Scroll down a little
Not much going on, not feeling great, lousy rainy weather-same old. Maybe more tomorrow.