A while back, probably last fall, I started testing this for
Amy
. We'll it was published (congrats Amy) and I can show my pics now.
Of course, I didn't use the right yarn, but some Silk/Rayon blend in a pretty deep purple colors.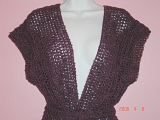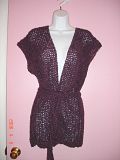 This was a great pattern, based on Judith Copeland's Modular Crochet-very easy to do, easily can be made to a larger size, etc. Great pattern Amy and congrats!