Finally got home from the doctor appointment-non-specified connective tissue disease is all they could come up with. It's okay cause I have refused any more immunosuppressant therapy for now and she agreed with that decision. She pointed out the weight loss and stabilization of weight, which is good, but then I pointed out the big stomach thing. She explained (which I already had read up on) about the steroids causing fat deposits in strange places (remember the neck story??) and apparently my gut was the next stop for the bastards. Eventually, it will go down, maybe not go away completely, but go down. It could be worse, it could have formed the back hump you sometimes see. So, I asked to be weaned off the steroids-which she was happy about too. Unfortunately, when I hit around week four, there could be problems with my adrenal gland since I was on them for a while and higher doses-basically it may not work. I would have to see an endocrinologist and get that kick started again. Again, cross that bridge if and when I come to it. So basically, go back in 8 weeks and wean off steroid-maybe it'll even help my fat deposit (is that gross or what) go away and my skin clear up and damn maybe I will be less bitchy.
Stopped at Trader Joe's and had a fab time. Who knew a market could be so much fun? Don't worry
Nat
, I only spent $32 this time. I bought pita bread, organic broccoli slaw (
Jess
made me do it and I even made the honey mustard dressing for it tonight), hummus, salsa, tapenade, veggie chips for Elena, Soy Flaxseed Tortilla chips (I love these things, got them at Whole Foods before), chinese potstickers, whole wheat pizza dough, corned beef (this was Mike, I don't get this purchase),almond croissants and Portuguese muffins for Mike. Didn't get the praline pecans cause I didn't get the email til I got home. We decided to go up once a month and shop there. The prices are the same as the supermarkets here and the fancy ass selection and healthy choices are better. I wanted the spinach dip and Tzatski (know it's spelled wrong) sauce, but they expired tomorrow and I knew I wouldn't be able to finish them by then, so next time. Oh yeah, I got some fruit leather too.
Then we stopped at this cutesy little shop about a mile from my house. Have been saying for two freaking years I would go and finally did. Okay, I admit, I went cause Mother's Day is looming and it's the type of stuff she would like and I am out of stuff to buy for her-really. I had meant to stop before I got sick to see if he took consignments for items, but again, never did. Anyway, the shop had a lot of primitive kitsch, etc., but I did find some hand crocheted fun-fur scarves tucked in a corner. I asked the owner about them and he explained that he and his partner knew an older woman from the next town over and they did it as a favor and he sold quite a few Christmas time-for $40 each. They were butt ugly-Bernat Boa, Fun Fur, etc.-none have sold since. Anyway, back to the store, I perused looking for something with a mallard or freaking gingerbread man (both things my mom collects) and came up with a primitive wooden box with a carved duck on it and a gingerbread candle (from Elena, of course). I fell in love with a square area rug-braided in deep burgundy, black, cream-I loved it. When I was looking at stuff, this jumped out at me: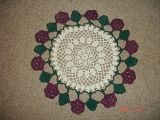 underneath a pig statue and yeah, it had a price tag of $4.99. The only one in the store. Don't know if it's made locally or what, but I had to get it. The floral area is pretty starched up and it doesn't go with anything in my house, but I had to grab it.
So we left there, came home and I had to pee something awful, to the point of running into the house and dropping everything. Damn, it hurt, bad. Now I think I have a UTI-been bothering me since. I now have had DILE (drug induced lupus erythematous) with almost all antibiotics on the market and I don't know what the hell I can even take, since I avoid antibiotics at all costs. I'll have to see what tomorrow brings with it-I can buy the OTC anti-pain stuff, but this is not how I needed to end my day.
All for now, I have to pee again.
I forgot, the Woolery hasn't contacted me regarding my order. You get a confirmation email, but then they are supposed to contact you with the exact amount charged to your credit card (free shipping and discounts don't show up on the online invoice). I'm antsy and I wanna hear it's on it's way dammit! However, the spinning book from Overstock did ship today.