I am so excited-I ordered it tonight-don't know when it will ship, they'll let me know tomorrow when they process the order.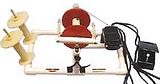 I am so damn excited-I just hope it's what I expect it to be and want it to be. I also ordered this:
from Overstock.com. I never have much luck with Amazon sellers as far as turnaround time or quality. This is new here, shipping is $1.40 and I love Overstock.com.
I am so psyched!