I have a chiro appointment today and am looking forward to it-which is a good thing.
I was going to run to Target and get some clothes for Elena (she had a spurt lately and everything is bunching up in her cooch, which causes her to walk weird and yank at her crotch all the time-it's annoying her and annoying me more), but Mike called from work and said he would go with us on Saturday and use his credit card since my Target card is almost maxed out. I prefer to go alone, but he's buying and with gas as it is, I guess I'll wait til Saturday.
I found out yesterday that Elena's school has a summer camp program that runs for three weeks in July. 8:30 to 12:30 Monday through Thursday and, get this, $20 for all three weeks. I was so freaking happy, I did a dance in my kitchen when I got the flyer. My ass is at the school today to drop off the form and check too-I am not getting on wait list for this. I had signed her up for a Kid's College summer camp thingy that ran the last week of her school thing-I called yesterday, switched out the weeks so now I have 5 weeks of half-day summer camp planned for Elena. I am thrilled! Elena is pretty happy too. The camp at her school has computers, mountain climbing (do not know what this is, but must be a rock climbing wall cause there aren't any mountains for hundreds of miles around here), shuffleboard, story reading, etc. The kids college is one week of Science Experiments (she picked it out) and is for 5 days from 1:00 to 4:00 and then Storytime Snacks (they read stories that have snacks in them and then make the snacks) and that's from 9:00 to noon for 5 days (different weeks). If she doesn't like the school thing, no biggie. The nice thing is the school is about 1/2 a mile away-low gas usage for taking her. The kids college, that'll guzzle gas, but a month ago I was desperate for some sort of summer thing for her where she would learn a little something. I'll end up sitting at the college most days waiting, but they have a lounge, cafeteria and my mom works there, so it's not so bad.
I finished the econo-shoppers last night-large and a small-love em! (bad pic). The small one is done in the Aunt Lydia's Denim Quick Plum shade and the large one is done is Peaches N Cream Desert Sand.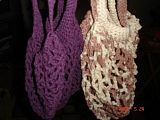 I started a chemo cap last night in Cotton-Ease Popsical (how they spell it) blue. The cotton-ease is nice and soft. Thanks for the yarn suggestions everyone. Shine is something I didn't think of. I have some Lion Microspun here, but am afraid it'll be hot under the cap since it's not cotton-but I'll try one. I have some thinner sportsweight cotton I'll try too. I'm bad at hats-they're either too small or too big, so I hope they work out. The pattern I am using doesn't leave a seam, etc-so it should be okay as long as it's not too small. She did have a small head (compared to me). I'll make one of each kind and see how it goes and if she likes a particular one, make more of that one.
I mailed my nipple out yesterday. Must have been weird for the mail lady to see the address and (I mailed in a plastic envelope) have a nipple sticking up through the plastic-it looked weird to me and I'm the one who packaged it up.
I hope
Elizabeth
made it to Virginia this AM. Delays from Amtrak made it tough for her. I am jealous as hell of her,
Lani
and
Marvie
all getting to meet up. Hopefully Elizabeth can swing coming to my neck of the woods this fall.
Well off to another exciting day in the life of me-