Last night I read
this post
by Hunny and it got me thinking. I thought about the different gifts I had made over the past several years and where were they? I know the stuff I made my mother is being worn, I've seen it. Ditto for my SIL, although I made her a capelet and she wore it to China. She sent pics via the internet and lo and behold, her sister was wearing it in all the pics. I got pissy, but she later explained they can't find anything like it in China (the shit you see "Made In China" in Wal-Mart or Target is indeed made there, they just can't buy any of it there) and her sister begged for it. I have made baby blankets, that were well received, but where are they now? I also have made charity blankets for the local NICU and it made me wonder, did the parent(s) like them? Are they packed away as a keepsake? Are they in a local landfill? You know and I know if you added up the time it took, the care that went into making them and the materials, they should be kept as keepsakes, but who knows.
Anyway, it also made me think of this: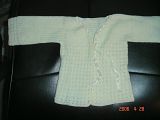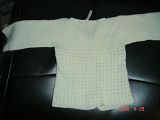 Cute, no? It's almost 42 years old and my great-aunt made it for me when I was born. Looks like new. Very soft acrylic (I'm sure, but not itchy) with a ribbon around the neckline and perle cotton sc trim all around. It looks like something that you could find a pattern for now...timeless really. There are no stains, pulls or anything. This was worn by me and my mother, who doesn't do one crafty thing, took the time and effort to clean it and pack it away in a cedar chest for me to have for my child one day. Elena wore it also and I have it packed in a cedar chest for her child (if she decides to have one. At the tender age of six, she has informed me she is never having a baby). I want to try and duplicate the pattern. It's sc and shell stitches and one piece, baby sacque.
While I was in the cedar chest I found these also-I don't use them because they don't go with my decor, but I have saved them also and yes, they need pressing.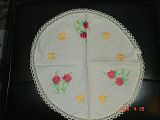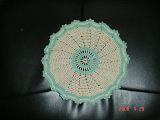 My great-GRANDFATHER made them. He was an immigrant farmer who made a fortune (no trickle down here, all was left to his son, not his daughter, who happened to me my grandmom). When he retired, he needed something to do, so with calloused hands he started thread crocheting and embroidery. It's weird that a man would do these,but he did and I will give these to Elena someday. The aqua and cream doily is made with a thread that has a nice sheen to it and seems thicker than #10. There are trebles, sc and picots and I am more fascinated by it now then ever before.
Anyone else have anything handmade from their childhood to share?