Since Elena had Spring Break this week and we had nothing planned, Mike took the day off and we went to
Adventure Aquarium
in Camden. Camden is a slum, plain and simple. They are trying to create a desirable waterfront area and have put in a concert hall (Tweeter Center), Campbell's Field (yes the soup is from there-it's a minor league ball park), fixing up the waterfront and yes, a new and improved aquarium. Nickelodeon has been advertising it about every 40 minutes and Elena just "had to go", so we went.
It was nice-we prepurchased out tickets, which eliminated the hour long line outside. We loved everything about it, except the shark tunnel. Now, Elena had been babbling about this tunnel where you walk through this area and the sharks are encased in a tank all around you. She couldn't wait, we saved it for last. Damn tunnel was about 7 feet long and so packed with people and so hot-she kept saying "This is the tunnel? It looked so much bigger on TV". Even I was like, "WTF is this crap" and I didn't expect nearly the enormity of what Elena expected. They also hyped up the hippo exhibit. First off, the area smelled like "hippo poop (Elena's words) and the darn things just sat in the water at the furthest point from where anyone could see them. All you saw were their noses. I wanted the frolicking like they show on the commercial!
In any event, we loved the seals and sea lions, penguins, jellyfish and all the smaller exhibits. My favorite was the seahorses-don't know why, maybe it's because the males are the ones that have the babies-I found that so appealing.
I will leave you with some pictures of the day: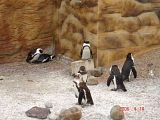 Penguins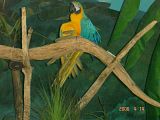 Macaws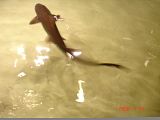 Sand Shark which we were able to pet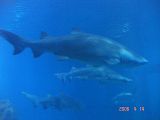 Sharks in the "shark tunnel"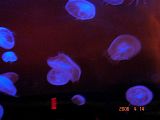 "Groovy Jellyfish"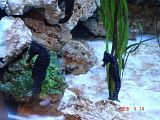 My favorite, the seahorses!


Elena and her dad

You will note there are no pictures of me, again. I have come to the realization that I don't look good in any pictures because, I look like shit. I must stop blaming the camera(s) for this anomaly and just admit it to myself.