i made Elena a pair of mittens the other day using Kool-aid dyed Wool of the Andes and
this
pattern. I went up one full size and tweaked it a bit. The bottom cuff is a bit big, I may have to weave a yarn drawnstring through it, but all in all they came out well.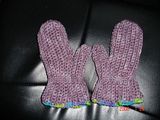 Before fulling
After fulling (3 spins through the washer)
I am currently still working on a shawl pattern for CPR, hands give out by 8:00 PM at night. Slept great last niight, but woke up with chills and temp of 102.4. No problems with my feet and legs, hands ache and sinuses and glands on neck are killing me. However, I can't feel the glands because of the neck swelling. I took two Tylenol and the fever is breaking already, like yesterday and then gone all day. I am stumped. Is it because of the fast taper of steroids? Sinus infection? I planned to call the rheumy today anyway because I am completely and utterly confused about my drug changes and the pharmacy messed up one of the medication bottle labels (third mistake in the past 6 weeks, time to switch pharmacies). Maybe he can give me my chest x-ray results later tonight. I am nervous about it.
Contest update: About 20 of you have correctly guessed the title. I will have a first place and runner up. Runner up with get a few cakes of laceweight/fingering weight hand dyed wool.
Sorry I double posted yesterday, either Blogger or I was a bit off.
It's freezing here today, must be the coldest day of winter so far. Very windy, 30 mph. I hate the cold-I shall stay cozied in the house today,I love being able to decide that.