I wanted to make wristwarmers for myself, so I whipped these up. I wanted easy (15 minutes), I wanted no blo ribbing and I wanted warm. These are done in Wool of the Andes Wool I Kool-Aid dyed and an "I" hook. I plan to make more, a bit longer though. Perfect for using up leftover wool.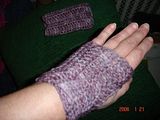 "Nip free zone"
Next is another Town & Country Poncho from Lion Brand. They did theirs in Jiffy (Icky), but I found using the Amore and an "M" hook, it looks so much richer. Anyway, the longer version/larger size. TLC Amore in Light Thyme (1 1/2 skeins)
Today, I hope to get to Michaels to pick up a ball of Matrix to make Mimi's bag, make a few more sets of wristwarmers, make a Panta, and finally start what I have been putting off, the Ticker Tape Poncho for my mom so I can write up the pattern for
Crochet Pattern Roundup!
.
Today is supposed to go up to 63 degrees, so we'll take down the outside Christmas lights, as well as wet vac the pool cover to get the excess water off-fun day, no? I also plan on doing a bit of cooking, sort of a cook-off. Jumbo sea scallops. I have my recipe ready in my head, does Mike????