Okay, my official Blogiversary was in November and this contest has been in the making, just getting it together now.
Study the picture below-it's clickable.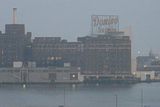 Email me with the name of the book and the author of the book at yarnsandmusings(at)gmail.com. This is a picture I took, but a similar picture is on the cover of the book.
This will run for 5 days. If more than one person guesses correctly, I will put the winners names in a bowl and pick from that.
What will you win???? One 440 yard hank of hand-dyed 100% merino wool, one fulled Marvelous Mini-tote and some handmade stitchmarkers. If you win and are allergic to wool, I will send you another type of yarn prize.
Good luck!