Yup, it's 3:00 AM. I am all screwy now with sleep patterns, but it doesn't matter anyway.
Elena's birthday party at school went well, I had no problems and was happy to have gone. I'm down to the 40 mg Prednisone and probably need more, but am going to plug through this way. I am also trying to cut back on the pain meds and did okay today, except I did wake up at 2:30 for the meds. I am also running a temp of 101, but it's not bothering me, so hopefully it's all par for the course.
Yesterday, I received some Christmas surprises in the mail. One box contained the book "Felted Crochet" and "Yarn Harlot"-needless to say, I was thrilled and excited. The "Felted Crochet" book is hard to get through the library and when I finally did get a copy ordered, I was in the hospital and couldn't pick it up.
I also received, from my darling
Regina
, one of her funky chickens! Her art work intriques the hell out of me and I am constantly amazed how she can "wing" (no pun intended) anything she puts her mind to.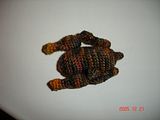 Today is the bone scan, which I dread just because it's a test and I want to dread it. Mike took the day off so we could get the test done, but wrap presents, etc. My poor husband, he's sick now, bad, bad head cold. Now, he's trying not to breathe on me, give it to Elena, etc. We are just one goofy ass mess of a family lately.
In any event, things are okay and looking up compared to last week, so no complaints. The "big day" is fast approaching and remember, no one has a perfect Christmas-just relax and go with it, enjoy the time you do have together. Don't fight, don't put too much emphasis on what gifts received. Enjoy the day and have fun~!