I think it's done. It's
Dawn
's awesome pattern, but tweaked. Great pattern Dawn!
I did the straps with the same wool, chain and sc and then sc of the thin handspun. I attached the straps like the BoogaJ bag (sorry, no grommets this time)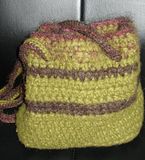 The thing is, I'm not sure if I like the finished product of using the roving, it's kinda funky retro. Still trying to decide.
BTW, the lasagna was wicked good!