Okay, she fulled. I ran her through 3 times and still may toss her in a few more.
It might not look like she did, but she did.
She's blocking now (on the 20 ounce bag of fiberfill, upside down, of course).
Anyway, as I stated before she started off:
11" tall-fulled down to 9" tall
17" wide-fulled down to 14" wide
14" deep-fulled down to 10" deep
She's still big, but I like her.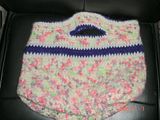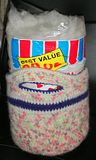 Now I can move on to something else. JA Rainbow Boucle shawl for a Christmas present, 20% completed. Did I mention I loathe using the Rainbow Boucle cause it snags my dry skin, but love the FO. Damn-I can't win!
I have to thank
Heather
again for the pillowcase-THANK YOU!