I must be a glutton for punishment because I have once again crocheted a bag that will need to be fulled. However, this time I used Briggs & Little Country Roving in Brown Sheep and Olive and added a bit of 2 ply, thin merino handspun wool. I have fulled with the Briggs & Little before and it fulls amazingly, so I have high hopes this time. I used
Dawn
's Well Traveled Bag pattern for the basic idea/measurements, but since I had to use an "M" hook, stitch counts and row counts were much less. Bag measured before fulling about 15" wide, about 12" tall and the bottom was approx. 5" wide.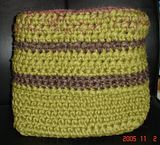 Damn, I jinxed myself-three runs and didn't full like I wanted. Crap-out comes the ice bath tomorrow or Friday!
I should be working on some Christmas Shawls, scarves, but I don't feel like it ;).
My next project, the
Abi Slippers
in the LB Fishermans wool (since it won't felt). The orangey one I dyed last week. These should be warm!