Elena age 5 1/2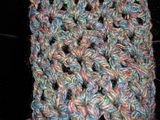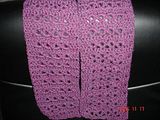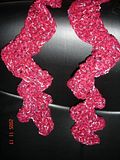 The burgundy one is a spiral scarf pattern from
Fuzzy Galore
. I did the initial chain to 100 instead of 80 and used Amore in Garnet and a thin, thin boucle thread held together.
The purple one is done in Plymouth Encore and I used Kathy's Winsome scarf pattern (Katchkan on C'ville-pattern under Original Patterns-Links), but made it less wide and sewed it together for a keyhole scarf
The blue/black one is from BH & G Simply Creative Crochet (the latest issue) and is the Shelly Scarf done with yarn from
Three Olive Martini
and an M hook.
The multi color one is done in a V-stitch pattern with Filatura Di Crossi Ad Hoc Yarn (which is a bulky mohair/wool/acrylic blend). I made this one long enough to wrap around European style.
There is also a close up of this yarn.