Okay, at 8:27 AM I started my fulling/felting quest. I decided to toss the FCEC tote in too, why not?
Filled washer with the hot water, tablespoon of soap and let er rip. Meanwhile, I used a wash basin, ice cubes and cold water in the tub to prepare for the ice bath. 10 Minutes later, checked, wrung them out, plunged them into the ice water, wrung out and tossed into the washer. I repeated this step 5 times, restarting the washer.
Results: Well, the FCEC fulled much more nicely. She was able to go through 3 times and then I let her run through the cycle (not worried about more shrinkage).
The Well Traveled Bag did okay. I also dragged it out, threw a towel on the washer, put on some rubber gloves, squirt of Joy dish soap and massaged the living crap out of her. Then tossed her in for another run through the washer. The Knit Picks did full better. I think it's the Lion Fisherman's really. I don't think it's a bleached wool, since they do recommend it for the "Lucy Bag", but still, Julie mentioned a problem with it. I'll try Knit Picks undyed next, when I can get up the dough.
Here's the pics, they are blocking now.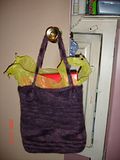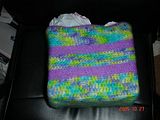 I want to make another "Well Traveled Bag" soon using just Knit Picks yarn, again, a money issue right now.
Okay, other stuff. I started some socks, frogged twice and just gave up for last night. Too much thinking. I did start a dreaded project, a lapghan (really a throw and a L-ong A-ss P-roject) thrown into one. Anyway, I kinda looked through some pattern and then took something from this and something from that and kinda made my own. I actually like how it's working up and I am using an N hook, so hopefully, it'll go faster. I am also using dreaded Red Heart Super Saver for this cause I bought the colors ages ago specifically for this project. I did return all my other odd colors to the store two weeks ago. I just hate the shit. Anyway, it's a bright red, black and heather gray. Not my color choice, but my brother and SIL have a red LR (please, don't ask).
I do feel a bit better about the fulling today. My hands are so dry and cracked and peeling. Between the soap making, washing that stuff up, the fulling and in and out of hot/cold water and yesterday, I baked bread, from scratch. My hands look and feel like shit. I think the wool sucks some of the moisture out of them too.
Tomorrow is 9:15 AM flu shot day, 1:40 be at Elena's class to dress the kids for their Halloween Parade around the school, 2:20 halloween party at school, I doubt I'll blog, but who knows.
Today I have to get a few scripts and pick up some Halloween pencils and other little crap for the party.
TTFN