As part of my sock pattern quest, I decided to try a pair of slippers. I chose
Abi's Slippers pattern
. They only took an afternoon of off and on crocheting. I used Wool-Ease in "Blue Mist". There were a few small changes. One was for size (I had to make mine larger, row 3 of the pattern left out one explanation, which I figured out on my own after cursing at it three times. Row 3 should have read: Ch 2, hdc in next 2 sts, *hdc in next 3sts), 2 hdc in same stitch (inc)* around to last 2 sts. hdc in each of next 2 sts. Join (22). Somehow, it left out the increase explanation. Oh well, no harm now. I also added an extra row of sc around the opening.
These fit perfectly, are super comfy (doesn't feel like I am walking on knots) and I would make them again.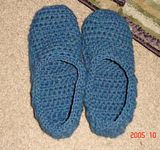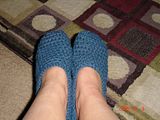 In other news, it rained and rained and rained all weekend. I am still getting over that cold, as is Elena. She also has had some sort of stomach virus since Friday. She mentioned a few kids went to the nurses office for tummy aches and I should have realized then. Now she doesn't want to go to school tomorrow for fear of "having to poop a lot". I gave her some acidophyllis yesterday and this AM and am hoping she feels a bit better. A four day weekend, inside, was enough. I never left the house all weekend (which was okay for me). I may go to Michael's today, but I doubt it. I would much rather go alone.
I made more clutches with the Trendsetter yarn too. It didn't full, I did it in hot water with soap and nothing, no change in texture etc, however, it smells like an old goat now (the one I tested). I saw
Joy
made some of the clutches with chenille and I think that'll be my next "quick, doldrums" project.
Congrats to
Kari
for Mark Martin's win yesterday and to
Tiff
for the Astros winning their long ass game too! I know you both must be psyched.
I really am going to do
Nat's
large econo-shopper today, I swear.
Well, Monday morning beckons.......