Marvie
had done a similar one some time ago and, of course, didn't write up the pattern. I decided to give it a try and even wrote out the pattern-perhaps a submission for the 2007 calendar. Anyway, it's named for Marvie!
I used the wool my secret sistah sent and probably should have doubled it up to make it firmer, but it's fine for toting around a crochet project, as long as it's small.
I am looking for testers, I did post a call on Crochetville, but of course, you guys can test too.
I used about 3.5 ounces of ww wool and a k hook.
It's not completely dry, so measurements weren't done. It's actually blocking on my head mannequin right now. I realized a few changes I should have made and rewrote the pattern.
Here's a few pics: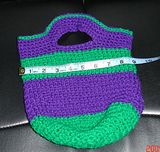 Before fulling
After Fulling