Yes,
Ro
, I made these to add to baby gifts and also to make up to donate to hospitals for sort of a "going home" package for Mom's taking their little NICU babies home. I will add some baby wash, shampoo, etc to the package.
Woven Mesh Baby Washcloth
Materials needed:
G hook
Sportsweight 100% cotton yarn (baby cotton) or 100% cotton chenille yarn (about 1500 ypp) (About 3/4 ounce)
Chain 29
Row 1: Hdc in 3rd ch from hook, *ch 1, sk 1 ch and hdc in next ch to end. Ch 3, turn
Row 2-17: hdc in first ch 1 sp, *ch 1 and hdc in each ch 1 space to end, ch 3 and turn
Row 18: hdc in first ch 1 sp *ch 1 and hdc in each ch 1 space across to end, ch 1 and start edging.
Edging: Sc in each stitch around washcloth with 2 sc in each corner to end. Use sl st to finish off. Fasten off and weave in ends.
I did this one in two colors: 6 rows of green, 6 rows of white, 6 rows of green and edging in white.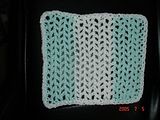 If you find any errors, please let me know. Thanks.
This work is licensed under a
Creative Commons License
.