After some time of on and off again fruitless searching for baby washcloth patterns, I finally just came up with my own.
This is a thinner cotton washcloth, so it's easy to get in the little nooks and crannies of a baby. I learned when it comes to baby washcloths, thicker is not better.
Bitty Baby Washcloth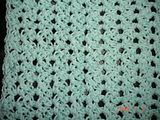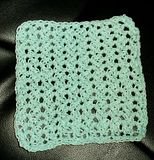 Materials:
G hook
Thin baby or sportsweight cotton yarn (or thin chenille). Please use 100% cotton.
For this I used Paton's Bumble Bee Baby Cotton Yarn, which is a sportsweight 3 ply 100% cotton
1 3/4 ounce (50 grams)skein makes two washcloths
The yarn used runs about 1500-1600 yards per pound (for you cone users)
Stitches used: chain, slip stitch and single crochet
Instructions:
Chain 29
Row 1: (Sc, ch 3, sc) in 2nd chain from hook. *skip next two chains (sc, ch 3, sc) in next chain. Repeat from * across. Ch 2, turn
Row 2: (Sc, ch 3, sc) in each ch 3 space across, ch 2 and turn
Row 3-17-Repeat row 2, chain 2, do not turn,do not fasten off
Edging:
sc and ch 1 across row into ch spaces. 3 sc in corner and ch 1, sc across to next corner, 3 sc in corner and repeat for the next two sides. Make sure to evenly space your stitches to edges stay flat and even. Do 3 sc in last corner and sl st to first stitch.
Size is about 6 1/2 x 6 1/2.
This work is licensed under a
Creative Commons License
.