With the vacation looming near, I feel the need to crochet my butt off. I made this for my mother for mother's day. It's lightweight and really came out beautifully. The pics don't do it justice.
I used the
Plymouth Yarn
pattern. Of course, I didn't have ten balls of Alpaca boucle lying around, so I used a jewel tone 800 ypp boucle I bought off of Melanie (Rodney has it now too, 7 lbs for $14.00). It's a nice, soft boucle, thin. I used one strand throughout with an L hook and the sc around the neckline I did with a K hook. I gave it to my mother early in case she wanted to bring it with her. It fit her perfectly. I must admit, I prefer the Lion pattern with the scallop edging from this pattern, IMHO it's nicer. But this is thinner, more for Spring.
I'm also using this boucle doubled for another shawl, which will hopefully be done for Florida.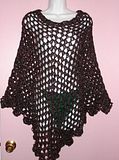 Not much else to report, still recovering from yesterday's mail.
Squeezes-