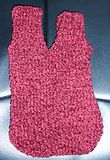 Yes, I admit it-I am addicted to this pattern. I don't know why. Maybe cause everyone loves them and I tried it in the chenille (1500 ypp) from Melanie and it looks beautiful. The color is a deeper red/merlot than the picture shows and it looks like suede.
I used the AJ's Wristband pattern (the original one, not in the round) and held two strands together and used the hook hook. I did add a couple extra rows to the handle cause the chenille doesn't give like cotton. I also did the sc trim with one strand and an f hook.
This uses less than two yarn winder yarn cakes. Now I'm thinking Christmas! I don't like to give too many homemade gifts cause some people just don't appreciate them, but this is a little different. They look good, are versatile and everyone can use them-well women that is.