I finished the AJ's Wrist Bag pattern (link a few posts down) and love it. I did it in cotton, but then saw on C'ville some one did it in wool, but didn't full it. Well, the next one I do will be done in wool and I will full it. I've decided if I make the straps a bit longer that it won't matter if the bag is smaller (to me anyway). Now I am brainstorming.......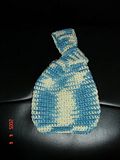 Before I do another, I must get my SP reveal project done. I just didn't want to start something big, I wanted a quickie after "The Cocoon".
Now, like the freaking lunatic I can be, I am here doing this at 10:45 cause I'm so happy to be done a project so quickly, I had to post and put up a pic. I am so damn dorky at times, I embarrass myself thinking about it.
Also, I heard from my C'ville Poncho/Shawl Swap partner and she sent out my Poncho/Shawl. No hints or nothing! I can't wait to see it!
I must go to bed now.......Squeezes