I finished the fleuri bag last night. The pattern is from the last edition of Crochet me! and written by
Julie
. The pattern was easy, perfect, no changes needed (although I am adding a row of sc around the edge of the bag that opens. I may line it, depends on my mood.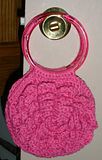 Now will I use the bag, don't know. I'm goofy like that. It may be too "girly" for me. I'll have to think about it a while.
I ordered business cards yesterday. No big deal, but my mother wears a lot of the stuff I make and always gets inquiries and she's bad about referrals. She's been begging for some cards, so..... BTW I put down Fiber Designer as my title (a little tongue in cheek humor)
I have to run to Target today as Elena has informed me her teacher told them they could wear shorts ad sandals. I bought her some Lands End sandals a couple months ago, but don't want them ruined for Disney, so I have to get sandals. Besides it's a good excuse to get some cheapy flip-flops to use up my eyelash yarn.
Squeezes-